Rosabel M. Morado
Langgay Fruits & Vegetable Store Owner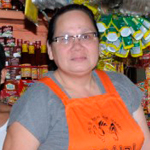 Rosabel M. Morado, 53, Langgay Fruits & Vegetables, Mercan Electronic shop, sell groceries and cell phone accessories/repair. Started in 2011, employs 4 people, is on her 11th loan from CARD Bank, joined 6 years ago, undisclosed earnings.
Variety is not only the spice of life; it is also how Rosabel Morado succeeds in business. Whether customers need fruits and vegetables or their cellular phones repaired, they flock to her store for these basic needs every day.
Almost all walks of life are our customers because our products are of everyday use," she said. "Almost everybody nowadays owns a cellular phone, so most of them are in need of accessories and repairs."
Multitasking comes naturally to Morado, who worked in an office as a young woman while also operating a variety store, an eatery and a piggery. On top of all these is raising her children.
Morado also had a taste of a failed business like their video shop, but she always learned from the mistakes and vowed to do better next time.
"We were never deterred, and we always thought of ways how we can earn more," she said.
It has been six years since Morado joined CARD Bank, over the course of which Morado has taken out eleven loans. She attributes the success of Langgay Fruits & Vegetables and the Mercan Electronic Shop to the available capital from CARD Bank and members of their family who are happily working together. They now employ several technicians and they also plan to open a bakery.
"You have to have the right timing, and you also have to have the right way of borrowing money," Morado explained. "With CARD Bank, we can receive loan money with very low interest, so we don't have difficulty paying it. My advise to others is not to take out big loans from too many creditors so they will not have difficulty paying them."
"It is also important to enjoy your work," she added. "It's not really a secret, I think that you should love what you do. You have to focus on your business, or you will lose your investment. You should also think of new businesses; businesses that you can focus on and handle personally."
~Rosabel M. Morado