Fely M. Belen
Belman Coco-Handicraft Owner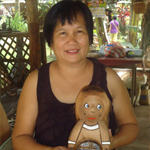 Fely M. Belen, 55, Belman Coco-Handicraft, established 2000, employs 21 people and four family members, makes PhP 500,000 a year (USD 12,500), joined CARD Bank six years ago, is now on her 12th loan.For Fely Belen, money does grow on trees. By turning coconuts from her province and the surrounding regions into ashtrays, birdfeeders and other unique crafts, she has built an international business with 21 employees from nothing but her small savings from years as a domestic helper and a series of microloans from CARD Bank.
We started with just a little, and then we continued to grow, she said. When we earned, we invested back into the business and our daily needs. We always needed to be frugal to purchase coconut and pay the wages of our workers.
Belman Coco-Handicraft's products are now sold throughout the Philippines and exported to the United States, the United Kingdom and other countries. Her eight children help out when they're not in school, ensuring the company keeps up with its escalating orders.
They know it is very important for us to help one another, Belen said. We also set an example to them by working very hard.
Success hasn't come easy, however. Local supplies have decreased, as plantations are converted to subdivisions and more competitors enter the market. And throughout the year, weather and seasonal cycles can wreak havoc on coconut prices and availability.
With the help of our workers and family members, we haven't experienced closure, even though sometimes we run out of cash, Belen said. We thank CARD for being of great help, as it has allowed us to maintain our business.
Now on its 12th loan and with a yearly income of PhP 500,000 (USD 12,500), the company can afford to stockpile coconuts when they are in season, and Belen emphasizes innovation and diverse markets to stay ahead of competitors. She credits her hands-on style, from sawing and sanding to managing her workers, for succeeding with a cyclical business.
We try to make different new items and products so our customers can choose from them, and we try to maintain our export quality and the date of delivery, she said. When exports become low, we market our products locally so we can sustain and maintain our business, as well as be of help to our employees.
For now, she hasn't put aside much money in savings or facilities, because a top priority has been to pay for her childrens education. Once the youngest three have graduated, she plans to expand into larger buildings and markets, ensuring that the company succeeds for years to come.
You must never forget to pray for God's guidance, but God will not do all the work, she said. You must persevere and be industrious. And once you like what you are doing, you also enjoy working.
~Fely M. Belen