Carmen Mayores
Mayores Handicrafts
Galing Ni Nanay 2013 – Malikhain Awardee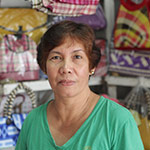 Carmen Mayores and her husband met when they both worked for Zesto Corporation. After seven years, Nanay Carmen quit her job to take care of her growing family and a small business. When Tatay Louie also retired from his work, the family decided to move back to Nanay Carmen's hometown in Camalig, Albay.
Since they were already familiar in running a bakery, they put up one in Camalig but this venture did not last long. In the meantime, Nanay Carmen got employed as a library assistant. They eventually sold the bakery, and the amount collected from this was used to build a house for the family and the remaining P5, 000 as capital for their handicraft business.
Starting with 2 sewers, and dividing the other tasks between the two of them, the Mayores couple began making Abaca bags and immediately sold the finished products to buyers in Bicol and Manila. Although she never had any formal design background, Nanay Carmen worked together with her eldest daughter and search for design ideas through the internet.
Nanay Carmen joined CARD in 2009 and used her first loan of P3,000 as additional capital for their business as more orders came. When Mayores Handicrafts was invited by CARD in the "Likha ni Inay" bazaar in 2012, luck smiled at them as they met buyers from Tagaytay and Liliw and their biggest buyer so far, who exports the bags to New Zealand.
This blessing came after their business experienced a financial setback due to a buyer who swindled them P100, 000 worth of bags. Nanay Carmen learned hard from this experience and became more cautious when it comes to payment.
It is also stressful to manage workers especially when there are rush orders. This is why she always made sure to take good care of her 13 regular workers. Nanay Carmen also gives primary importance to quality and personally checks on their items before it is released to the buyers. Mayores Handicrafts do not depend solely on the orders that come in to sustain the business. Nanay Carmen goes to her buyers and offers her bags on special arrangement when sales are down.
With the help of her daughter, who is taking up Marketing and is already exposed in the business, Nanay Carmen plans to target more buyers in Manila and also penetrate Canada as new market for their Abaca bags.
Nanay Carmen and her family are eternally grateful to CARD not only for providing financial support to their business, but also for helping them promote their products to a wider market. When asked about the secrets to her success, Nanay Carmen continues to stress the importance of quality and in never failing to thank the Lord for the blessings that came their way.
~ Carmen Mayores