konek2CARD gears up for Roadshow
Posted on November 12, 2021
In its pursuit of bringing its clients closer to affordable financial services like digital banking, According to CARD MRI's konek2CARD Champion and CARD SME Bank President and CEO Cynthia B. Baldeo, the Roadshow brings konek2CARD, a mobile banking application, closer to its goal of reaching 3.5 million registered users by June 2022. She also emphasized the role of konek2CARD in making CARD MRI's financial products and services more inclusive.
"Reaching more CARD MRI clients and communities means including more Filipinos in our goal to provide them with digital services that will make banking safer, affordable, and more convenient for them. Through konek2CARD, we let them cash-in, cash-out, transfer funds, pay their loans and bills, as well as check their balance and bank statements without going to the bank. This allows those far from our bank branches to transact in the comfort of their homes," Baldeo said.
The Roadshow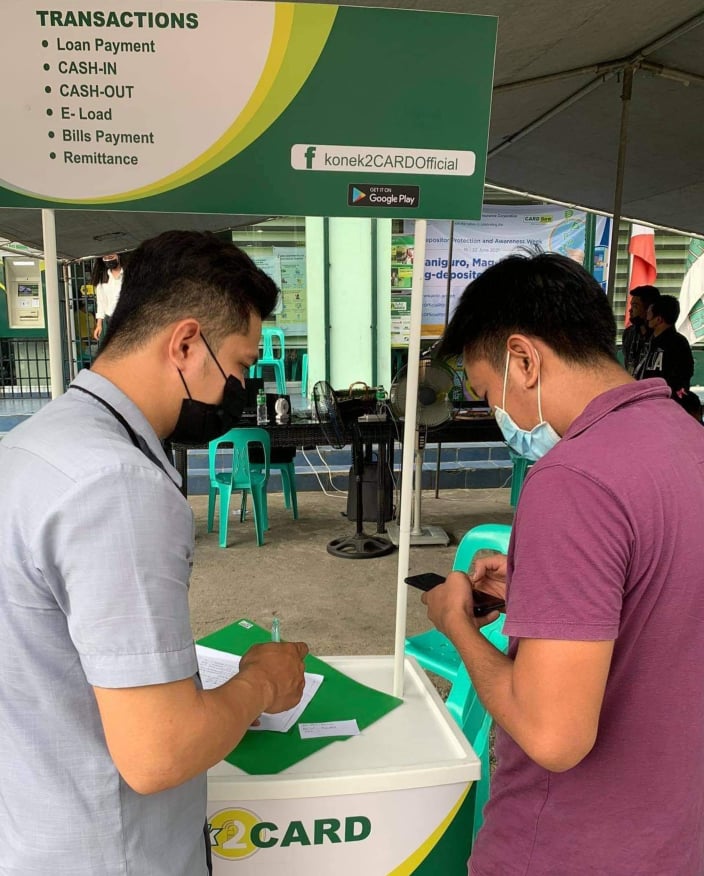 konek2CARD first launched its Roadshow in June 2021, visiting Tagaytay and Dasmariñas City in Cavite, Taytay, Rizal, San Fernando and Angeles City in Pampanga, Subic, Zambales, Urdaneta, Pangasinan, and Tarlac. Through the Roadshow, konek2CARD assembles a booth resembling a one-stop shop filled with activities that will widen the reach of the digital mobile banking application in the Philippines.
Among the activities offered are konek2CARD registrations, opening of savings accounts, and amendment of information to update customer's data on the server and register them on the application. Further, the one-stop shop also serves as a customer service booth with an assigned staff that can answer konek2CARD inquiries and concerns. The team also sets up an infomercial that guides the clients on the basic features of konek2CARD.
During the program, a konek2CARD Trivia Game and Digital Spin the Wheel Raffle are also prepared to invite CARD MRI clients and non-clients to transact with konek2CARD and win up to PhP300 worth of e-load and other freebies.
The Road to Poverty Eradication
CARD MRI Managing Director Aristeo A. Dequito sees the potential of the Roadshow to boost financial inclusion in Luzon, and later on, to other parts of the country.
"Our digital initiatives not only address our need for a digital transformation but also the need of our clients to access our primary banking products and services. With the Roadshow, we provide our services to the marginalized communities in the Philippines and inform them of the importance of saving. By doing this, we usher one of their needs closer to them, and that is access to basic financial services," shared Dequito.
With the growing number of konek2CARD users each day, CARD MRI Founder and Chairman Emeritus Dr. Jaime Aristotle B. Alip is optimistic that CARD MRI is closer to its mission of financial inclusion and, therefore, poverty eradication.
"To break free from something means to embrace change and seeing more and more of our clients adapt our digital banking initiatives is telling of how close we are to breaking free from the cage that confines us into poverty. Let us continue to forge the path for our clients and lead them hand in hand closer to greener pastures," Dr. Alip concluded.
konek2CARD is a mobile banking application made for the clients of CARD MRI's microfinance institutions including CARD, Inc. (A Microfinance NGO), CARD Bank, CARD SME Bank, and CARD MRI RIZAL BANK. As of October 31, 2021, konek2CARD has a total of 1,507,820 registered users and counting. For inquiries, message konek2CARD at www.facebook.com/konek2CARDOfficial.